The Difference Between Being a Leader and Leading a Team
with guest Rich Diviney #MakingBank S5E29
As someone leads and supports a team, their skills inspire others. Being a leader has always been something that people have discussed; are leaders born or made? What is the driving factor between successful leaders and great teams? There are many contributing factors in how leaders develop their skills and growth, but it often goes beyond just the individual. 
Rich Diviney knows a lot about leading and being a part of a team. As a 20-year Navy Seal Officer and leadership consultant, he has observed human behavior and the skills that leaders have in common. Joining this episode of Making Bank, Rich talks about the qualities that make real leaders, while also talking about the importance of the team dynamic.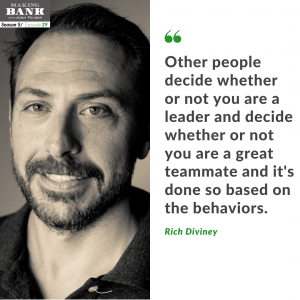 Becoming a Leader 
Some people are natural-born leaders, while others are appointed and grow into their position. Being a leader is important in whatever you do, but it's particularly important to entrepreneurs. When starting a business, you need to take responsibility and be comfortable taking risks. This means that a leader also can't be afraid of being a part of a team.  
"No one gets to call themselves a leader. It's like calling yourself funny or handsome. Other people make that decision. Other people decide whether or not you are a leader and decide whether or not you are a great teammate, and it's done based on behavior." Rich says that the best leaders are constantly adapting and reassessing situations. These types of people hold themselves accountable and hold others to a higher standard.  
Great leaders are ones who gain trust from others and become recognized by others. Good leaders depend on certain behaviors. By behaving in a way that allows someone else to decide and make decisions to either follow or get inspired by the leader or not, the best leaders make people feel like they're not being forced to do something by power, but that they want to contribute to the team and make it a better environment overall. 
There is a delicate balance between respect and power, and Rich implies that the importance is having others view you as a leader – opposed to just yourself. A little confidence never killed anyone, but if you don't gain respect from others, you're setting yourself up for failure.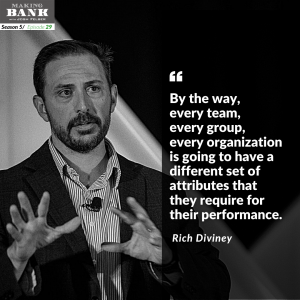 Being a Leader and Starting a Team 
Commonly, leaders are often entrepreneurs. At the beginning of entrepreneurship, people have to be highly tuned in to their skills and attributes. They have to look and view themselves in a certain way that allows them to be the leaders they strive to be. You can't lead a business if you aren't confident in what you are doing, or if you don't know what skills are the ones that you need to better. These are the leaders that also have their motivation. Goals not only push them forward but make them hungry for success after achieving a benchmark and wanting more. Once they've recognized all of that, they've got that leadership and team-building quality they need to start.  
 "As soon as you begin to work with other people. That's when the entrepreneur has to say to him or herself, okay, wait a second. Now my job has fundamentally changed, right? I now need to lead people." And this might be an adjustment. When you're a leader in a business, you have to make sure you're inspiring and encouraging people to understand their purpose and work in a way that makes them happy. Not only that, but you have to make sure people are happy and that your business is running smoothly and efficiently.  
It becomes a challenge to find the right people and encourage them to sprint with you in the beginning. As a business leader, you need to do your research and build your dream team and ensure that you have all the attributes that you need to achieve what you want and expand and grow. The people that you select should be selected with thought and purpose so that the foundation that you're building is as strong as it can be. 
At first, it's hard to imagine creating a team when you're a one-man show with one idea and a dream. When it grows beyond just you as the individual, it gets tough to keep something going and keep pushing people forward. There's a shift in which some businesses don't make it, or they fail because they can't change from being an individual to a leader of a team.  
When you're a leader there are specific qualities that are needed, especially when it comes down to business. "Decisiveness is quite an enduring leadership attribute. The difference between decisiveness and decision making is speed. Speed and efficiency. Someone can be a fantastic decision making, but they are long and protracted on that decision," which can make the team not want to follow the leader.  
After growing a team, it's important to recognize skills you might need to brush up on or skills that you might need to implement by hiring other people. Although scary, teams allow you to spread the responsibility. Hiring people with specific skills only benefits the business as a whole. This doesn't mean that you shouldn't work on your skills and yourself.  
Your skills are going to grow, and change based on the amount of effort you put into yourself. To stay the best leader, you're going to have to continue to learn and push yourself forward to be that person that the team needs, and the person that helps the company get to where it wants to be.