3 Types of Homeschooling and How to Decide Which is Best for Your Family
with guest Justin Brooke #MakingBank S4E22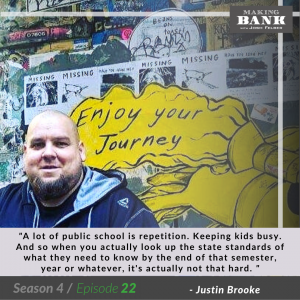 According to StopBullying.org 70.6% of young people say they have seen bullying in their schools and 70.4% of school staff have seen bullying. The risk of bullying coupled with an ever-increasing focus on standardized testing and a lack of control over the curriculum, many parents are seeking alternatives to traditional public schooling. Private schools might be the answer to the academic hurdles children and parents are facing, but this is often out of reach financially and might not do much to protect children from bullying and cyberbullying.   
If you're here, it is likely you have been toying with the idea of homeschooling your children. Maybe it is to avoid negative peer influence. Maybe you are dissatisfied with the curriculum being offered in your local schools. Maybe you want to travel with your family more throughout the year. Maybe it's all of these things or something different entirely. Regardless of what has led you here, trying to sift through all of the different options for homeschooling can be overwhelming.  
Homeschooling isn't as straightforward as it has been in the past. We have access to so many more resources these days, which is wonderful but easily leads to a paralysis of choice. What option is best for your unique situation? Your unique child and his or her specific needs? The good news is, we've been there. And our experience has been that there are different levels of homeschooling that can help you more easily identify what options are best for you and your family. We will walk you through the benefits and potential pitfalls of the three main types of homeschooling which are virtual schooling, traditional homeschooling, and unschooling.  
Virtual Schooling 
The first type of homeschooling we will discuss is virtual schooling. Think of virtual school as the first level of homeschooling. Virtual school tends to be the best entry into homeschooling because you don't need to be the teacher for your children. This is like public school uploaded to the cloud. 
Your children will still have a teacher that they can call or text to get help or feedback. There are field trips that you can do with local nearby schools and opportunities for structured activities with other children and local classes. They will do group projects with other kids and will have to get on the phone and talk with each other which allows for peer collaboration and interaction.  
Virtual schooling is an excellent option if no one in your family has any prior teaching experience. This also has built-in opportunities for your children to still get some of the more traditional public school experience. Your family will get to spend much more time together and you will have location freedom if this is important to you. 
The pitfall here is that your children are still following the public school curriculum. So if you are looking for more control over what is being taught and the pace of the curriculum, virtual schooling might not be the best option.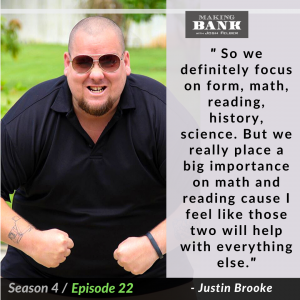 Traditional Homeschooling 
The next level is what most people consider to be traditional homeschooling. With traditional homeschooling, you're still following someone else's curriculum, but you are able to decide what curriculum you follow. You can buy curriculums, you can follow a school curriculum, but you're following somebody else's curriculum. A good way to think of traditional homeschooling is that you will function almost as the assistant teacher at home. You will be much more involved than with virtual schooling and will be making sure your children are engaged, progressing, and generally understanding the material. 
A benefit of traditional homeschooling over virtual schooling is the time spent focused on class. With virtual schooling, your kids are still going to be doing five to six hours a day because they are still having to meet most of the same demands of public school. Whereas with traditional homeschooling, you could step it down three to five hours a day because you're just not having to do everything that the public school demands. You're still meeting the state standards, but you have more control over the time constraints.  
Unschooling 
The final level of homeschooling we will discuss is called unschooling. Unschooling is classified as a form of home-based schooling but is generally understood to be an informal mode of learning that advocates learner-chosen activities as a primary means for learning. This likely sounds really great, but what does it look like in real life?  
First, unschooling is not based on any specific curriculum. Your children will need to show proof of meeting state standards of learning, but you will be able to build your own curriculum however you see fit provided those standards are being met. This means your kids can get credit for visiting local science or history museums and landmarks. A trip to the grocery store can turn into an opportunity to teach a math lesson or to learn about health and nutrition. You intentionally use daily, real-life experiences as learning opportunities.  
This option obviously provides the most freedom and flexibility which can be both a blessing and a curse. You and your children will need to keep organized and updated portfolios to show progress in meeting state standards. You will need to plan opportunities to get out into the world and for your children to interact with their peers. 
The great thing about the world we live in is there are so many options and resources available to use. Not only is there the internet, but you can leverage Facebook groups, YouTube videos, Khan Academy. It might take a little bit of research and creativity, but you can build an engaging and effective curriculum and learning experience for you kids using the unschooling system.  
Regardless of what option you may choose, possibly the most important step is to include your children in the decision-making process. Spend time reviewing all of the options and determine what will work best for you all as a family.