Bringing Credibility into Your Business
with guest Mitchell Levy #MakingBank S5E27
Business is built by the people who have ideas, create the foundations of what they want, and exceed expectations with growth. That includes rising from failures, hitting road bumps, and a lot of questioning along the way. But successful entrepreneurs manage it, and they look good doing it too. So how do they do it? It boils down to their credibility.  
Learn from Mitchell Levy, global credibility expert, TEDx speaker, and international best-selling author, as he joins us on this episode of Making Bank. He discusses how to become a credible leader in the workplace and overall as an entrepreneur – and how being credible can change your perspective on life.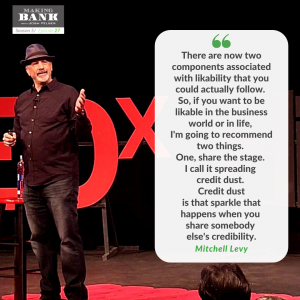 Credibility in the Workplace 
Mitchell talks about having clarity when it comes to conveying messages – to audiences and employees. Part of being an entrepreneur is changing people's minds and routines. Therefore, you're trying to alter the lens through which they perceive the world. When you change your lens to focus on who you are serving, it can guide you towards your success. Whether it's the next prospect or the next company that comes your way, it can push you towards where you're going to be the best.  
In conversations and discussions, credibility plays a major role in entrepreneurship – especially when you're trying to build a team of people. When creating relationships, you want to build them on a strong foundation. Within credibility is respect, being likable, and being able to express who you are and what you want. As an entrepreneur, you've got to be credible, but beyond that, you have to focus on the kind of people that you can depend on and trust.  
Why would anyone want to work with someone who doesn't respect them? Especially when it comes to competition, which occurs in selling and hiring, you want to be that credible person that not only shows up but stands out. By surrounding yourself with a team that has similar values and standards, then you're building up to something that will provide customers with those same values that matter to them.  
"And when you get to the point where you trust people, you could say whatever comes to mind, even if it's theoretically – you wouldn't say publicly, but you could say privately to that person you're interacting with. And I'll often say to someone when you're in the middle of like a really beautiful session, I go 'how cool would it be if all our conversations were like this.'" You can have a real conversation for 30 minutes and you can end up getting a lot accomplished in a short period.  
Not everyone can be like this, and Mitchell knows this. But there is an importance of changing, of bettering yourself, and placing goals and higher expectations on yourself. Something that can help this is by having an accountability partner. Being accountable and credible all the time is impossible, but having someone that can call you out when you start to slip up is a great tool in training yourself to be accountable.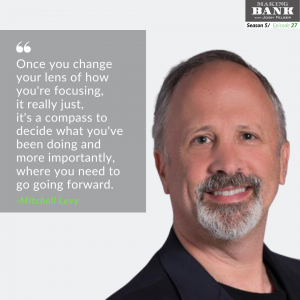 Credibility as an Entrepreneur 
Not only does credibility play a part in your business relationships, but having the company be credible in its work. Mitchell says, "And I'm going to say, have credibility built into what you do. And so, you get rid of the crap. You get rid of the dubious stuff and you focus on the credible stuff." You have to hold yourself accountable and recognize the things that are leading you to growth, or the things that are slowing you down. To expand the lens, you have to acknowledge the company's successes and failures too.  
You don't just have to appear to be credible to the potential employers or employees, but the customers too. When you want to market and sell a business, remember that it was built on the values of the individuals who created it. How do you want your business to be perceived? How can you ensure that your customers view your product as you do? 
"Selling is discussing how to solve a problem, the problem that your audience has," Mitchell emphasizes that knowing what you're doing puts you at an advantage. No one likes a company where the top person has no idea what the entry-level workers are doing. The best companies are run by people who understand the business as a whole machine. This way, when changes are being made, you're trying out new ways to relate or find ways to connect with your target audiences, but you're also connecting with your company.  
When credibility transfers to selling and marketing, it helps entrepreneurs recognize the lenses or the ways that their audience or customers view them. Understanding what they want, what their core values are, what they represent, will all help build that company and keep them thriving.  Business is dealing with people. You've got to build a company, a product, a business, on those people that will understand and help further what you want.  
"So, as a business entrepreneur, what do they want to see? And so, there's never a right or wrong. It's just, who's the audience you're going after and where do you want to show them? Once you change your lens of how you're focusing, it's just a compass to decide what you've been doing and more importantly, where you need to go going forward."