Entrepreneurship in the Age Of Digital Spaces
with guest Chad Keller #MakingBank S5E43
Entrepreneurs come up with many new and different products that make themselves stand out in their industry. This includes providing services, which is something that used to be overlooked. Combining services with the new digital spaces that technology provides creates a whole new industry and environment to create businesses in.  
Chad Keller, digital adverting entrepreneur, and real estate marketing mogul joins this episode of Making Bank. Chad's first major venture as an entrepreneur was as an Amazon Seller after connecting with a marketing expert at a startup event. When he realized the potential of Facebook ads and digital marketing, he ran with it. Since then, he created his e-commerce agency, co-creating Marketer Hire. 
Learn how his entrepreneurship journey led him to be involved in digital marketing, plus the role that psychology plays in marketing and how that is still being transferred in methods in the digital space.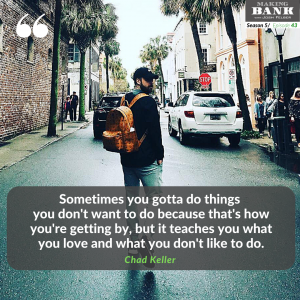 Starting In E-Commerce 
Reflecting, Chad feels like he's always had entrepreneurship in his blood. When he was younger, he was always selling things and getting into different things from a sales position. Chad knew that he didn't want to go corporate when he started in sales and business. This led to him figuring out what kind of job he wanted to do – and how he could be his boss. 
"I started selling like pretzels, little donuts and things at the gas station…which I always say was the best sales experience ever. With knots in your stomach, walking into these gas station and just like 'hey, will you carry this product?'" Chad recalls starting his first sales experience as a young kid. 
Quickly, he realized it wasn't sustainable because he couldn't keep staying up to make donuts in the middle of the night. This was his first discovery about scalable businesses. Not every idea he had was going to work out like he originally planned. That didn't stop him from going out and trying to put new ideas into action. 
Chad went through a few different start-ups before really getting into marketing. Going to a start-up event, he found himself connecting with people that knew the ins and outs of marketing. At the time he was studying the new trend of e-commerce. He was reading a lot on amazon selling and the digital sales space, and how it was quickly rising in popularity. Amazon started to realize the power of e-commerce – which in turn made Chad want to learn different skills and knowledge that would differentiate himself from everyone else in the marketing game. 
As he learned more during his e-commerce experience, Chad started doing Facebook advertising. "And then when I saw that [Facebook ads working], I'm like, Okay, this marketing – digital marketing – is real. I need to figure this out." A year and a half after that, Chad's company got acquired to consult for e-commerce companies and creating an e-commerce agency. His experiences were a snowball effect that led him down the path of success he faces today.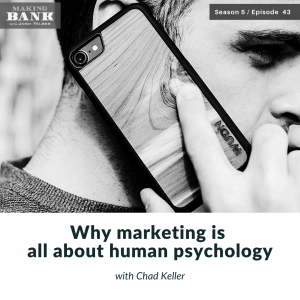 Psychology and Digital Marketing  
After studying the behavior and characteristics of audiences, Chad realized that a lot about marketing itself comes down to psychology. To keep himself an education and constantly learning, Chad reads books and books about psychology, mindset, and how the brain works from a sales standpoint. He takes the knowledge that he's gaining from sales and applying it directly to a digital marketing standpoint. 
Great sales tactics will work on every level – including platforms like Facebook. Understanding the psychology behind it and applying it to business now helps growth and sustainability. "When we were trying to just push heavy for sales and then like diminishing returns would happen and it's like, what are we doing wrong here? And then reading like the psychology behind things and applying that to every business now kind of building that true marketing funnel has been amazing," Chad says.  
Recognizing the importance of marketing wasn't Chad's only lessen as he continued to grow his company. More times than not, the first company that you start will require you to do things that you don't want to do purely based on survival. Despite not loving everything that you're doing, it will teach you what you like and what you don't like. The failures and the hardships teach you lessons that you'll be able to carry on later. 
"I tell everyone that you're going to keep failing, you're going to keep learning. Like even in our business now, like we hire people, very high-level people that we take shots with and pay them very high, hourly rates just to come in and consult. And some of them work out, some of them fail, but I learned from it and we keep learning from it. So, it's just continually taking those shots." Getting too caught up in failures can stunt potential growth. 
Chad kept trying new things until he figured out what he wanted to do, and even though that path wasn't completely smooth, it led him to do what he wanted. Failure leads to experience, which leads to learning, which overall shapes you into a better entrepreneur.