How to Avoid Hitting the Wall in Business: Taking Entrepreneurship Opportunities
When you think of big-name companies and brands, know that they have a history for being around for a long time. Throughout decades of hard work, development, and different sorts of leadership, the biggest brands around the world have a rich history of entrepreneurship from some of the best leaders. 
Joe Foster is one of those people. The recent guest on the Making Bank podcast with his late brother, Jeff, started Reebok. With a history of business in the shoes, their grandfather invented the spiked shoes. However, after realizing that their grandfathers' company didn't have much business, they decided to split and make their own company. This resulted in Reebok, and despite how big the company is now, it wasn't always this way. 
Learn about the trials and tribulations of the company going from being a brother-run business in a small, windowless building to being the number one shoe company in America. Joe speaks about his experience and shares advice for entrepreneurs, discussing how he achieved the success he did.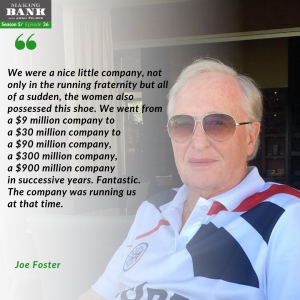 Taking the Chance for Growth  
Reebok became a successful shoe company in what seemed like overnight – this was very much not the case. Between Joe and his brother and other partners, the business took about 11 years to gain traction in America. After earning a couple of 5-star reviews and gaining popularity through Runner's World Magazine, Joe was ready to expand and be the biggest shoe company. 
After having a friend coming back from aerobics classes with friends, Joe and one of his partners were interested in the new workout-type classes that focused on exercising to music. "We went down [to the class], the instructors were in the ratio of half the class wearing running shoes and the other half nothing – bare feet. So that was a light bulb moment. Wow, why don't we make shoes for these girls?" Joe saw an opportunity. Realizing there was a certain need, he knew that his company could cater to it. 
There was some pushback with this idea in the company, though. There was a great success with just creating and providing running shoes. The growth hadn't even stopped. Why was there the need to make shoes? The idea was uncomfortable because it strayed from what people in the company knew. Capping a business to one thing was detrimental, and the company knew that. So, they started making women's sneakers and that's how they became a woman's shoe.   
"We went from a $9 million company to a $30 million company, to a $90 million company, $300 million, $900 million company in successive years," Joe says of the addition of creating woman's sneakers. It had completely exploded with success and Reebok was lucky.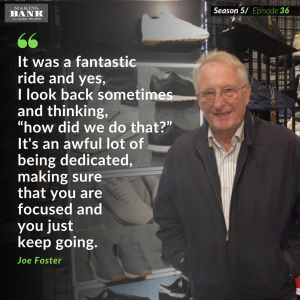 Tearing Down the Wall 
A big problem is finding a product that has enough juice to survive. As a successful company, you've got to constantly grow and develop new things. At the time, Reebok didn't hit the wall because they were capable of the change that they knew they needed to implement, and the timing was perfect. 
"Nike just hits a wall for whatever reason. And this happens in most companies, they get so far then suddenly there's a wall to go change direction." Joe says. During this time, when Nike was pulling out of factories, Rebook managed to get them. Reebok was willing to take the opportunity to grow, and because of this, other companies weren't staying up with them. 
During this time, there was exponential growth inside the company. Reebok had the same mentality as Joe – the employees and the culture reflected the dream and the drive to be that number one company. Everyone liked to work there, employees got to climb their way up to the top and make a difference. There was a point that the culture was so fantastic, that Joe felt like he could take a step back and let others handle it. 
Because despite all the growing success and the amazing experiences, Joe felt like the challenge and the excitement were gone. "I grew up through all these challenges and whatever it is. So, it's time for me to leave." The process from the beginning was such a back-and-forth process with so many ups and downs. Joe always found himself answering questions on how he did it. 
That's one of the main reasons why he wrote his book – to tell everyone where he came from, how we did it, and all the problems. But with all of that, they managed to come through successfully. 
"You know, I look back sometimes and think, how did we do that? Do you know? But it's an awful lot of being dedicated, making sure that you are focused, and you just keep going." Joe reflects on the hardships, one of those losing his brother, and pushed himself further and harder until he drove himself to number one.