How to Overcome Challenges as an Entrepreneur
with guest David Osborn #MakingBank S4E7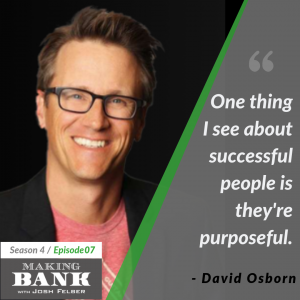 Being an entrepreneur is not always as easy as many people think. If it was, everyone would have become an entrepreneur. So if you are reading this blog, congratulations! Without mincing words, the following are the key tips on how you can overcome the challenges that you may face as an entrepreneur.
Save Money
Most entrepreneurs don't get their funding until they have proven something. Venture capitalists look for solid opportunities. They evaluate business plans and revenue models before making decisions. As a start up this will be one of your biggest challenges. However, there are many ways to save money. You can start by saving a portion of your salary, taking out a loan, or selling unused appliances. Every single penny counts when you're in business. So no matter how small you save it always matters.
Have Realistic Plans
Most entrepreneurs are easily disheartened after failing. What you might not know is that business is a win-win situation. If you want to see results and achieve your goals, then have a realistic plan. Don't set expectations that are too high. Instead, create goals that are easy to measure. This way you can actively accept the result while identifying the risks associated with your decisions. It will also help you create plans to handle whatever hurdles that come your way.
Move with Positive Thinkers
As a young entrepreneur you will feel stressed and drained. Having a low spirit can foster indecisiveness, low motivation, and lack of focus which could result in bigger issues. If you want to succeed, surround yourself with positive minded people. Nurture a community that shares the same goal and vision. These people will help you find a way to achieve your dreams even though the going gets tough. If you mingle with the naysayers, your mind will be corrupted and soon enough, you will lose your passion and enthusiasm for your business.
Stick to your Family
Being an entrepreneur is a full-time involvement, commitment, and dedication. At some point, your family becomes your refuge whether you are emotionally drained or financially crippled. You will need a lot of support and understanding from your family. You can count on your family to give you knowledge, motivation, and the drive to move forward. When you feel burnt out, have low morale or self esteem your family can fuel the motivation you need to excel. When you finally achieve something, your family will be your number one fan.
Go Back to the Origin
It is easy to lose focus as an entrepreneur. Experienced entrepreneurs have through the rough road before getting to their final destination. In the same way, you will meet a lot of challenges that will discourage or dishearten you. But don't give up. Go back to why you started your business in the first place. Re-think. Re-analyze why you want this business so much. Do you have a family to support? Do you have a vision of becoming a business icon? Would your parents be proud if you push a little harder? Meditate on your plans, think of the struggles you just went through. In the end, you can't just lose. Soon enough, you will be more determined to face any obstacle that comes your way.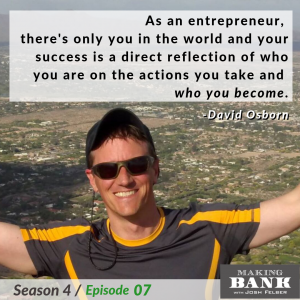 Travel and Learn
As an entrepreneur this could be your make it or break it moment. Travelling helps you discover a lot of things and learn more about yourself. You will get to see a lot of people from all walks of life, immerse in their culture, and enrich yourself with knowledge. Travelling will test your limits and soon enough you will learn to be patient, which is an important aspect of entrepreneurial success.
Work Smarter, Not Harder
Most aspiring entrepreneurs stopped after finding a job that pays well. Eventually they become content with what they have. But what if you can earn quadruple of what you're earning now while living the life that you want? If you want to succeed, you shouldn't just settle on your job. Entrepreneurs are smart workers rather than hard workers. You must adopt a millionaire's mindset. Intentionally changing your thinking patterns can help you transition from a salaried employee to self-employed.
Be Opportunistic
Business is dynamic. Sometimes sticking to the original plan is not enough to move you forward. So take advantage at every opportunity that comes your way. Capitalize on your experience and turn it into learning. Opportunities are everywhere. In this new era, your chance at succeeding is small if you stay in your comfort zone. Try something new. Travel in places you've never been before. Research different business ideas and strategies on how grow your business. Find a way to connect with better people, create a solid team, and build a community who can take your business to the limelight.
Educate Yourself
Lack of experience and immaturity are stumbling blocks to success. When you educate yourself, you will gain more confidence to win over any challenges that may come your way. There are many alternatives to formal learning that you can opt to if you don't have time to dedicate to a campus-based course. Join trainings, attend seminars, and read a lot of books. You can also listen to podcasts, which do not take an hour to finish. So while you're gradually migrating from being an employee to an entrepreneur, you will be absorbing the latest updates about leadership, management, culture, and behavior.
Do Not Limit Yourself
As a young entrepreneur, you may experience self-doubt, misjudgments, and criticism. Naysayers will say you'll never reach your destination. The key to overcoming this type of challenge is to simply believe in yourself. When you believe in a bright future there is nothing you can't achieve. Moreover, do not limit yourself to what people say. Setbacks are only temporary. In the business world, knowledge is the key to solving issues, analyzing situations, and managing risks. Enrich yourself with wisdom and do not be afraid to discover new ideas that you can use to improve your business.