Remote Work after the Pandemic?
with

Bryan and Shannon Miles
with guests Bryan and Shannon Miles #MakingBank S5E2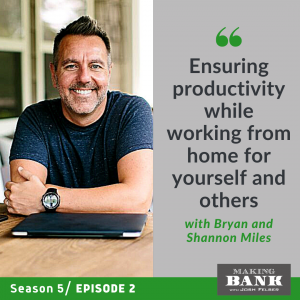 For the past several months, many of us have worked from home. What started as a three-week long lockdown has stretched into months, and potentially, months to come. Some offices are telling their employees that they will return no sooner than Labor Day, while others warn that in-person work will only occur in 2021.  
For many of us, this is our first time working from home. Perhaps it has been a relief for you: no office attire, no commute, and potentially more sleep. Or perhaps virtual work has been more stressful for you. You may need to watch and teach your children, work, and complete chores. More is on your plate now than ever before, and you haven't even left the house! The current situation has left a resounding question in our collective minds:  
"When will I go back?"  
Perhaps you're thinking that once we've managed the virus, you'll never work from home again. Maybe you've been converted to enjoying remote work. Lurking underneath the question of when is another: "Should I?" 
However, this unique time is not a good indication of what remote jobs will look like in the future. According to Bryan and Shannon Miles—the founders of the all virtual staffing company, BELAY—lockdown does not accurately represent what working from home does, can, and should look like.  
In 2010, married couple Bryan and Shannon Miles decided to quit their corporate jobs, cash in their 401Ks, and start a company together. They combined what they understood worked in an office hierarchy and what didn't to form a virtual assistant staffing company. Since their business model relied on remote work, their made their company entirely online. They've spent over ten years growing and operating a successful business with no physical location. They've learned a lot throughout the years, which Bryan has collected into a book titled "Virtual Culture: The Way We Work Doesn't Work Anymore."  
Bryan and Shannon put forth an interesting opinion on a recent episode of the Making Bank podcast. This time of COVID-19 does not properly display what virtual work is supposed to look like. Below are their reasons.  
Forced Adaption  
In March, the country shut down abruptly and businesses had to adapt overnight. Many companies had little structure set in place for complete online work. We've now signed up for Zoom, and if not already, Slack—but many companies still struggled to manage projects and delegate work.  
With these new online platforms in use, the question of access cropped up. Does my employee have proper access to consistent and stable internet? How can I teach my employees to operate these new platforms if I myself never have?  
When adopting new ways of operating, many companies found themselves in a slow transition. This forced adoption left many places of work disorganized and confused, slowing down their productivity.  
However, Shannon states that when you normally begin a virtual job, the company will provide you with the right resources. They will already have a procedure set in place to onboard you into their company in a way that is effective and simple. Just as in-person corporations have a system for introducing new personnel to the environment, so do virtual employers.   
Perhaps the struggle to remember if you're still muting on Zoom or forgetting to check Slack has deterred you. However, if at any time you are considering a permanently remote position, just remember that the induction process you underwent during COVID will not be the same one you will experience in a role already adapted to the internet.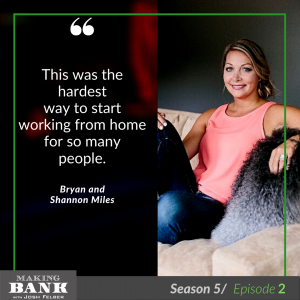 Productivity 
Another question about remote work that has popped up is: "Am I being productive?" Or, "are my employees being productive?" If you're not physically in the office, how can you ensure anything gets done? Kids are stuck at home all day, with no childcare available. So, while working full time, many parents are also child rearing simultaneously. Between preparing snacks and entertaining children, how are you going to answer all those emails?  
Bryan and Shannon discuss the perceived notion that virtual work is less productive. Shannon specifically points to the presence of children as to why remote roles are ineffective now compared to what they would've been without a pandemic. During COVID-19, your children are trapped in the house. As some states loosen up their restrictions, maybe you don't feel safe sending your child to a camp or daycare, even if it's an option. As Shannon says, "This was the hardest way to start working from home for so many people." 
Once life returns to the normal we knew before the virus, children will return to school or daycare. If you are financially able to, you will now find babysitters or nannies. If you have no children but have many errands or other tasks to attend to, you can discover a schedule of your own that would allow you to finish your work on time. Without the pandemic, traditional remote work is done during your personal availability, whenever that may be.  
Bryan brings up aggregated data that points to virtual work as more productive than in-person. He says, "somebody that's working onsite 30-35 hours a week, we replaced them with about a 15 hour a week virtual assistant." This reduction in hours relates to the idea that when given specific tasks to complete, employees will fit those tasks into their available hours, and sometimes complete them at a faster rate. As Bryan points out, "you're paying a lot to have somebody sitting in office," waiting for their responsibilities. In other words, virtual work is extremely intentional. It is measured by the work done and not necessarily when a person enters or leaves an office.  
Overall, the Miles couple encourages people to look beyond their experience of working from home during COVID. When considering new, potentially remote jobs in the future, it is important to remember in these strange times, being a virtual employee now does not resemble what a virtual employee normally is.