The Best Onboarding Process for a Virtual Assistant
with guest Nathan Hirsch #MakingBank S5E11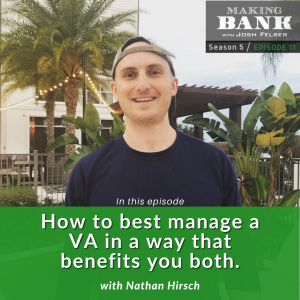 When you have a startup, or a company that's successful but still small, you may find yourself spread thin. While certain tasks, such as scheduling, need to be completed, they also distract you from larger goals. As your business grows, you will eventually come to the place where you need to delegate these tasks, and by not doing so, you actually lose money. this is when you may need to start thinking about hiring an assistant. Yet, if you're still small and your budget is tight, it may feel like it's not a smart investment. However, a virtual assistant is a great way to make sure scheduling, phone calls, and replying to emails get done in an efficient manner.  
While our lives have been moved online, finding a virtual assistant, and training that assistant virtually can seem like an overwhelming process. On a recent episode of the Making Bank podcast, guest Nathan Hirsch discusses the steps for interviewing, onboarding, training and managing a virtual assistant. Nathan and his partner founded Freeup, a freelancing platform that they grew into a $12 million-dollar revenue company. After selling Freeup in 2019, they started Outsource School, which offers playbooks, programs, and software for entrepreneurs looking to virtually hire. Between the two companies, Nathan has become an expert on what works and what does not when it comes to VAs. Below, he shares his advice on each stage of finding the right assistant for you.   
Interviewing  
The very first thing an entrepreneur must do before s/he even starts interviewing for a virtual assistant is create a list for the tasks that need to be completed. Now, Nathan says that "everyone kind of jumps right to the interviewing and they forget to do things like create a list of all the tasks that you're doing and divide them up between what tasks you need followers for, what tasks you need doers, for what tasks you need experts for." In other words, he is saying to reflect on the type of tasks you need to get done and categorize them into what level of knowledge is needed in order to tackle them. That way, both you and your potential employees have a clear understanding of what the job requires.  
However, there is more to it than just creating a list. Nathan expands: "So what tasks do you do every single week that you know how to do very well, that you can create an SOP for and transfer off your plate to someone else?" What Nathan means by SOP is your standard operating procedure, which is a text document or video that explains how your company completes certain tasks. What's the most important concept, however, is that you should identify which responsibilities you can generate a document for, so that you can teach someone else how to handle that responsibility. We will further discuss more on SOPs in the next section.  
In addition to organizing your tasks and understanding which ones you can teach someone else to complete, you must also pay attention to budget. Nathan says to spend time "figuring out what your budget is for the virtual assistant, because I've seen people that hire VAs, they train them and then they realize that they can't afford the VA afterwards." For a simple and easy way to determine your budget, you can visit the Outsource School site, which offers a free VA calculator that will tell you how many assistants, and the type, you can afford.   
Onboarding  
Hiring  
Say you've interviewed and hired the right person to be your virtual assistant. What next? Nathan discusses how you can onboard them properly and manage them. When it comes to creating an SOP, Nathan advocates for video over text, even though video SOPs are more work. 
Additionally, Nathan encourages you to break down your SOP into three parts: the why, the steps, and the important reminders. The why is outlining to someone why their work is important to the company. As he says, "It's why are they doing this task? How does it impact the big picture? What does success and failure look like?" You want to make sure they understand your business and how their role influences the company. Nathan explains that many entrepreneurs will "just say, 'Hey, do these 10 steps.' And then the task is done each day." This approach, however, doesn't give your VA a sense of purpose, which can leave them feeling disengaged from their job and the company.  
Next, your SOP should include the steps for how your VA can complete the tasks you have laid out. Lastly, the SOP should have the important reminders or things for your VA to remember. On this, Nathan says, "don't hide the most important stuff in Step 10, Part B." For example, if a VA is managing your inbox and you don't want them to reply to emails from lawyers, put that at the top of the important reminders. You want to "make it very clear to them. What is the most important part for them to remember in that time?"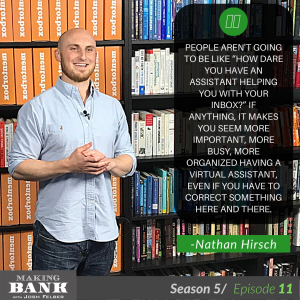 Managing  
When you are starting out with a new virtual assistant, many business owners fear that the assistant will make a mistake that will cost the business. Nathan's advice on this that "there are steps you want to follow and you don't want to go to the next step until they prove to you that they understand the first step." Have them prove they understand each task before giving them a new one—and don't be afraid to give them more responsibility as they prove they can handle what you give them.  
If you are still stressed about your virtual assistant making a mistake, Nathan highlights a great point. He says,  "People understand. People aren't going to be like, 'how dare you have an assistant helping you with your inbox?' If anything, it makes you seem more important, more busy, more organized to have a virtual assistant, even if you have to correct something here and there."