There's No Wrong Way to Be an Entrepreneur: Get Creative & Have Fun
with guest Jeremy Parker #MakingBank S6E7
In the world of entrepreneurship, everyone talks about honing skills and following strengths and staying creative and motivated. But not everyone knows right away where to focus those skills exactly, or even which industry or niche they want to commit to. As unlikely as it may sound, you truly can combine all your skills under a single umbrella with a bit of troubleshooting, risk taking, and putting yourself out there. 
Jeremy Parker graduated from Boston University in 2007, majoring in Film Production and winning an award at the 2006 Vail Film Festival for a full-length documentary. However, he then admitted to himself that he did not enjoy filmmaking, and decided to pursue other strengths and passions.  
He soon started a creative promotional product division under MV Sport, called Vote For Art, where he cut his teeth in the world of promotional products, aiming to "make collegiate apparel cool again." Today, he's co-founder and CEO of swag.com: the best place for companies to buy quality promotional products that people will actually want to keep.  
During his interview on the Making Bank podcast, Jeremy shares his rich history in the promotional products industry and how he learned what he really wanted to do and pursue as a new entrepreneur. He details how swag.com took a massive hit in March 2020 at the start of the pandemic, and how by the end of 2020 they were up over 100% from the year prior thanks to his team's creativity, diligence, and innovation.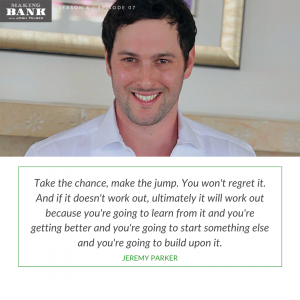 It Doesn't Matter Where You Start 
Jeremy says he was probably the only filmmaker in his college who didn't actually want to be a  filmmaker– he was more interested in marketing and branding, he was fascinated by commercials, and he knew how important storytelling was for selling. What better way to tell a story than through video? Around the same time, YouTube began to quickly rise in popularity, and Jeremy instantly knew "it was going to be huge." 
However, while standing on stage to accept his Audience Award at the Vail Film Festival in 2006, he had a profound realization. Jeremy shares, "I did an internal gut check. I was like, number one, am I that good? And number two, do I really love it? And both answers were no." So after the film festival, headed into his last year of college, he got serious about pursuing something else, from scratch. 
When he graduated, he had no business experience and no clue how to start one of his own, but he was excited to figure it all out. He was energized by the chance to flex his creativity and learn what he liked, what he was good at, and where his skills would be able to really shine.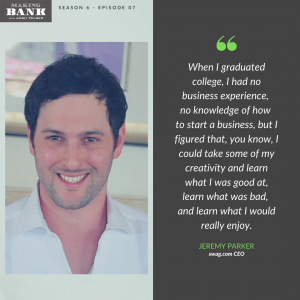 Discover the Things You Actually Enjoy 
Along Jeremy's journey, he started a high-end t-shirt company selling $200 t-shirts and distributing to 40 or so different stores. However, the launch happened right at the start of the 2007 recession, and Jeremy was forced to adapt and pivot. He shares with Josh how he wrote an article to Mark Cuban's blog about his new innovative market-related pricing model. His idea, he told Mark, was to sell the $200 t-shirts to people and then when the Dow Jones dropped, people would get a discount on the t-shirt price.  
Mark Cuban loved the idea so much, he wrote about Jeremy on his popular blog, Blog Maverick, which was eventually seen by the CEO of MV Sport, Eliot Peyser. Eliot Peyser and Jeremy met and hit it off instantly, and Jeremy became part of MV Sport to learn the ins and outs of the promotional products industry. It wasn't long before Eliot told Jeremy point blank, "I would love to fund a business that you start." So, Jeremy married all his skills and interests together, and created Vote For Art: a licensed collegiate apparel company that engaged with campuses and students to create apparel that students were actually excited to wear. 
All of this is to say, you never know how far your ideas may take you, or who you might meet along the way. Be bold in expanding your network and putting yourself out there. Be confident in your unique ideas and skillset. At face value, you might wonder how someone like Jeremy can go from studying filmmaking to becoming an entrepreneur in the promotional products space. But all the small details from point A to point B add up, and he learned more about himself and his business sense at every turn.