You're Never Alone: Support for Suicide Awareness and Prevention
with

Joe and Christian Massa
with guests Joe and Christian Massa #MakingBank S5E51
This article and associated podcast episode deals heavily with the topics of suicide and depression. If you or someone you know is struggling with depression or suicidal thoughts, don't hesitate to reach out to someone you trust, or call the National Suicide Prevention Lifeline at 800-273-8255. You are never alone. 
Joe and Christian Massa are the brothers and filmmakers who created My Suicide Story, an ongoing web series featuring survivors of attempted suicide who share their powerful stories of survival and how each of them now passionately advocates for suicide prevention. Through the impact of the powerful docu-series, the Massa brothers hope to spread awareness for those struggling with depression or suicidal ideation.  
The series began almost by accident when a close friend of the brothers reached out after seeing their 2016 silent short film, Pressure, in which Christian plays a young man burdened by thoughts of suicide, and Joe plays a personified version of suicidal ideation. Their friend Kenny shared that he'd attempted to take his own life a few years prior. The Massa brothers recorded Kenny's story, which later became the first episode of My Suicide Story.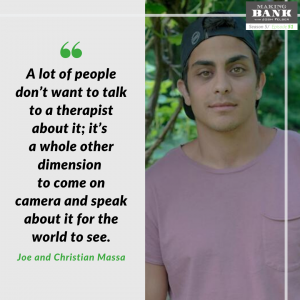 Liberation Through Storytelling 
My Suicide Story currently has five episodes, but the Massa brothers share that they've had hundreds of survivors reach out to them in confidence to tell their stories after being so moved by the web series. "Not everyone is comfortable being on camera," they explain to Josh during their Making Bank podcast interview. The important thing is that viewing the series made each of them feel seen and understood, and realize that they aren't alone.  
Some of the survivors have shared with Joe and Christian that the process of sharing their stories with the world has helped them to further process and overcome what they went through; in the majority of cases, telling their story on My Suicide Story was the first time they've ever told anyone. Some describe it as a weight being lifted off their chest by sharing their story with the world. Each of them at one point felt so profoundly alone that they attempted to take their own life, and yet, in every case, someone saved them. They are all now huge proponents of suicide prevention, and hope that people who hear their stories feel less alone in their struggles.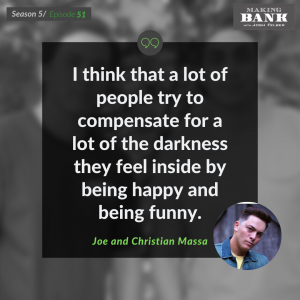 Check on Your "Happy and Outgoing" Friends 
The Massa brothers admit that when their friend Kenny came forward with his story, they had no idea. They describe him as a happy and outgoing friend who they never in a million years would have thought was battling depressive thoughts and suicidal ideation. Joe also reminds podcast listeners of Robin Williams, who suffered quietly while the world knew him as the positive, funny, happy guy he appeared to be on the outside.  
Since starting the docu-series, Joe and Christian say that it's common for folks struggling to hide their despair behind happy exteriors and humor, especially men. People suffering with these thoughts often go out of their way to hide any symptoms or warning signs they may privately be experiencing because they don't want to "burden" anyone with what they're going through.  
So, with compassion, check in with your happy friends, your funny friends, your entrepreneur friends, and your friends who seem to have it all together. You never know who may be suffering in silence.  
Receptivity, Safe Space, and Active Listening 
Joe and Christian say the most important aspect to suicide prevention is showing people suffering that they aren't alone, and that there are people who will compassionately listen to them. Joe also emphasizes the importance of receptivity when checking in on the people in your life.  
Joe explains, "I think in our culture today, everyone is so quick to demonize people who are suffering from depression and suicidal ideations, and that's not the right thing to do. We don't want to demonize that. We want to be able to demystify. We want to see why these people are feeling this way, and to be receptive to that is one of the most important things." 
Check any judgment at the door. Let them know that you're listening, and that they aren't alone. It's important not to let those dark thoughts fester; there's always someone out there that's willing to listen, and there's always someone out there who understands and has gone through something similar.  
It's never too late. You are enough. You are not alone.