Josh Felber Wins Best Personal Finance Expert of 2014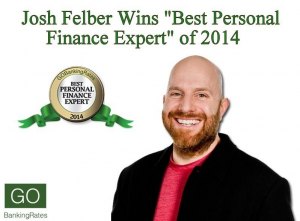 The votes have been tallied and a new champion has been named the "Best Personal Finance Expert" of 2014. For the fourth year in a row, GOBankingRates rounded up the year's 12 leading personal finance gurus and asked them for their best tip for achieving financial success in 2015. The finalists echoed similar themes: self-development, spending intentionally, saving for the future. One expert among the pack, however, especially resonated among readers.
Josh Felber Named " Best Personal Finance Expert " of 2014
The competition received more than 164,000 total votes from Dec. 1 through Dec. 31. The race was a heated one between the top contenders, with expert Josh Felber eking out a win with the help of his fans, while Jeanette Pavini of Coupons.com and Robert Kiyosaki took second and third place, respectively.
Felber's winning advice:
"Become omnipresent," he said. "Can you imagine how much financial success you would have if you, your brand and your company could be known everywhere all the time? Now is the time to push the needle and create 10 times the action around who you are and what you do." In addition to encouraging his followers to crank the dial on their personal brand, Felber emphasized the importance of "creating that celebrity status" that famous entrepreneurs like Mark Cuban have cultivated.
Josh Felber's 4 Biggest Accomplishments
Along with taking home this year's title, Felber's background positions him as an obvious master at his craft. Here are four little-known facts about the year's biggest finance expert.
1. He's Turned Passion Into Profit
As a tenured athletic competitor winning awards in various marathons, Felber has capitalized on his passion for fitness by opening and operating a number of health and fitness centers. His latest venture, Functional Fitness Labs, LLC, has proven successful by tapping into the CrossFit following.
2. He's an Accomplished Author
Those eager to learn about Felber's business savvy but unable to attend a seminar are in luck. The entrepreneur keeps his strategies accessible to the masses through several best-selling books he's co-authored, including "SuccessOnomics" with Steve Forbes, which emphasizes the importance of risk-taking, perseverance and taking action to achieve wealth and success. In the same vein, "Transform" with Brian Tracy demonstrates how readers can take control of their finances by being their own money-minded advocate.
3. He's a "Serial Entrepreneur"
At the young age of 14, Felber started dabbling in the business world and has since owned numerous businesses — some successful, some not so much — but he's always embraced his failures and grown from them. Best of all, he's sharing this wisdom through coaching and other speaking engagements.
4. He's a Documentarian
From writing to operating a business and even producing films, Felber is a Jack of all trades when it comes to inspiring an audience. His documentary film projects include "The Rebound," about a wheelchair basketball team, and new endeavor featuring the journey of Peter Diamandis, chairman and CEO of the XPRIZE Foundation
Now, as the winner of the "Best Personal Finance Expert" of 2014 competition, it's clear that Felber isn't resting on his laurels. He, along with the other 11 finalists, have already offered numerous fans countrywide the motivation they need to take action in the new year.