Performance, Supplements, and Business Success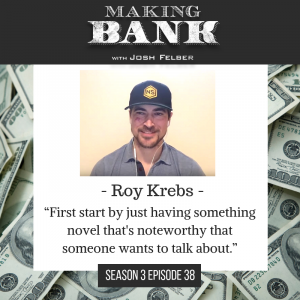 Roy Krebs has a pretty remarkable story when it comes to the co-foundation of his dietary supplement company Natural Stacks and it would be easy to look at its inception and assume that Roy and his partner Ben made one bold move and got very lucky after that, but that's just not the case.
People assume that to be successful as an entrepreneur all you need is one good idea. We hear it all the time — all it takes is one lucky break, one opportunity to present itself, one idea, that's it! And I suppose after the theoretical lightning strikes it's supposed to be gravy from there. It's not.
What you need, and what Roy has so brilliantly been able to continue to do when he's hit the inevitable roadblocks, is continued creativity, innovation, and a willingness to adapt and engage in unexpected scenarios.
It's not just about having one good idea. It's about sustaining creativity through the hundreds of micro-problems that arise on the daily, and maintaining enough flexibility to carry out your initial brilliant idea from inception to manufacturing to marketing and beyond.
Roy's initial idea was commercially manufacturing Ciltep, a brain supplement which enhances cognition and productivity. He used the product, was passionate about the product, benefited from it and thought other people would as well. So he sent a Twitter message to its inventor Abelard Lindsay, and four months later they launched Ciltep's commercial production.
Ciltep had a little buzz around it, but it was a mostly unknown supplement. They needed to market the product, but had no cash, so Roy sent a cold email to Dave Asprey, well-known founder of Bulletproof 360, essentially saying "we're commercializing the Ciltep formula, can we come on your podcast?" offering in exchange a discount wholesale rate if Dave wanted to sell Ciltep on his site.
Dave agreed which in turn launched them into a bunch of other podcasts in the health and wellness space where they found that "if you have something that's different, special and noteworthy, all these guys, they want to hear about it. They want to have it on their show. It's value for all parties."
After using Ciltep, professional poker player Martin Jacobson, got in touch prior to the World Series of Poker asking about a flat-fee deal negotiation to be sponsored by Ciltep for the game. Still early in the company, they were unable to financially front end that sort of a deal but knew the exposure could be massive for Natural Stacks.
Getting creative once again, they instead negotiated a percentage of revenue for one month after the game aired on ESPN. Their solution fostered a great relationship with Martin Jacobson, and despite being the underdog, he ended up winning the tournament (which played out well for all parties involved).
With each bump in the road, Roy discovered a mutually beneficial solution that both expanded his brand's reach and cultivated new relationships with people excited by Ciltep.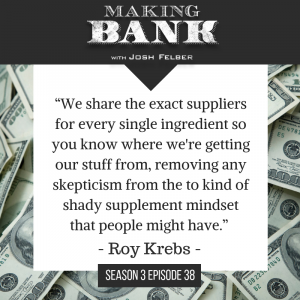 Simultaneously, he held his company to a remarkably high standard, standing behind his product and fighting to remain transparent for his customers.
By sharing their exact ingredient and supplier lists, along with university clinical trials, double-blind placebo-controlled studies, and 3rd party lab testing he "takes a very pharmaceutical approach to dietary supplements." Natural Stacks is by no means required to do this, but they choose to, believing that it "removes any skepticism from the kind of shady supplement mindset and having an amazing quality product has been crucial to [their] success."
It's hard to believe they've been able to accomplish what they have and maintain as high of standards as they do, but when it comes to optimizing performance and productivity, the Ciltep must be working.
To find out more about Natural Stacks head over to www.NaturalStacks.com or email Roy directly at Roy@naturalstacks.com