Why Education-Based Marketing is Significant
with guest Ted Miller III #MakingBank S5E16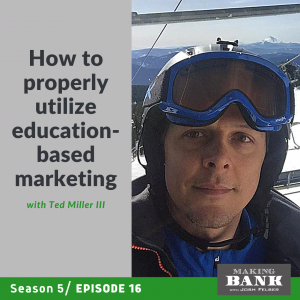 How you market your business is one of the most important things in creating successes and achieving your sales and brand goals. Beyond just the clicks and interactions, marketing is the way that you're portraying your product and why your product is the best one on the market. It goes beyond just selling it once – it's ensuring you're creating loyal customers that in turn help you market your company.  
Ted Miller, an entrepreneur coach of 25,000 people, joins this episode of Making Bank to emphasize the importance of educational marketing. With this specific model, Ted experienced 30% conversion rate every day for a decade within his own business using educational marketing, and it's still withstanding during this pandemic. It not only helps businesses grow, but it helps them survive all different types of unprecedented scenarios – especially in the time of COVID.  
Ted explores what education-based marketing is and how you can implement it into your marketing strategies.   
What is Education Based Marketing?  
When you market your business and product, you want to be beyond 'just a business.' What are you providing to your clients? It goes beyond creating content to be push out and be viewed, it's interacting with your clients and customers and having them be involved in the business too. 
A lot of the times, companies are creating amazing content, but it's not getting them anywhere. The content provides helpful information and it funnels more activity to the company – but sometimes it fails to end with a sale.  
"It's because they're trying to put content out there. And the biggest mistake they make is they take off their strategist hat. The second someone's grabbed their attention and they put on their sales hat" Ted says of producing content. Education based marketing focuses on educating the clients, but also making sure that the company puts out information or content that will just lead the potential clients to the existing vendors or your competitors.  
Rather, "If you're using education compelling content to grab someone's attention, if you want to profoundly improve your conversions" then you've got to put the effort to implement that education through your process. You can accomplish this while also maintaining the same marketing ad budgets and the same media that you've been using.  
Ted pushes through the stigma of "webinars" and seminars with providing tools and educating people. Against the common belief of something needs to be free to sell something, Ted has people pay for his coaching right away. That way, more is on the line. The customers are paying to learn, but he's also ensuring that people are showing up because they've got skin in the game. This creates a balanced relationship making both the business and the client dependent on each other to provide to what they need.  
Education based marketing focuses more on informing and teaching, rather than just grabbing attention for a few moments and then having customers go throughout their day without giving the product or business another thought.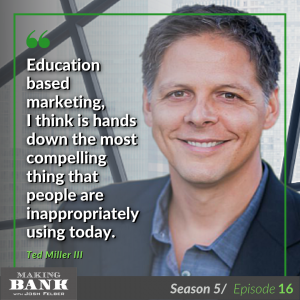 How does Educational Based Marketing Work?  
Education based marketing connects people with what they want to know directly – they're paying how to learn and see what the most successful leaders in the business that they want to pursue. It gives them a hands-on approach to show them what they can do and move behind the space of getting stuck and not moving forward with just the same old ideas they've been going through.  
"You know, now you can go out and find better talent to work for you because you have a better model because these speakers are dying to have this stage to speak on. What if all you did was put butts in the seat in front of the finer speakers you've ever heard speak before and pay them extremely well to feed your machine." Ted knows that every businessman might not be the best speaker, but there comes an opportunity in that because people are out there that are just as passionate about your product or your business just like you are. They are just waiting for someone to give them a platform, and in return for that platform, you're getting business.   
In the model that Ted finds most successful, "once you understand condensing the access to someone's wallet in time, you've eliminated the cashflow issue. And then the conversions rival belly to belly sales efforts when done through an educational format." The model focuses on bringing your consumers down the funnel to the specific item you are selling – whether that is a coach consulting company or direct e-commerce. It's guaranteeing that people aren't just clicking on your company – it's success in sales and cash flow.  
Especially now with COVID and the pandemic, the educational marketing-based model works successfully for many different environments. Whether it be a start-up company or a company that finds itself being stagnant, this marketing strategy can be just what your company needs to advance and further your business.