Combining Innovation and Entrepreneurship
with guest David Lekach #MakingBank S5E17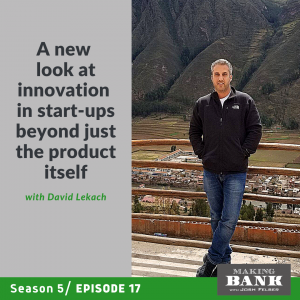 When you look around, innovation is everywhere. It's in the products that you use every day, it's in the things that change the way you go upon your daily life, it's something that is constantly evolving around you. Innovation is key when you're in business, and it goes beyond just the product itself that you're trying to sell – it's in the processes of each business step.  
David LeKach, founder of Dream Water, joins us on this episode of Making Bank. David created his company by falling in love with the natural sleep aid first, and then decided to help finance and rebrand the start-up company. An entrepreneur himself, David now consults companies and participates in multiple entrepreneur organizations.  
David learned how to get his product in big name stores, but also crafted a strong direct to consumer base. While placing emphasis on innovation, David also says that having an Entrepreneur Mentality helps foster success and growth in business.  
Innovation 
There's a point in any business in which you feel tired, like you can't push forward from the spot that you're in. David says this is the victim mentality, and he's fallen in it before too. Pushing through the hard work and seeing through to results is something you need to do for not just growth, but for the success you want. So, when David felt himself slipping into this mentality, he worked harder and found what he loved about the company in the first place; the uniqueness.  
To David, it was beyond just a sleep aid. Dream water was creativity from innovation, and it was beyond just developing this unique product. Designing the packaging, deciding where you sell, how you sell, how you envision it all going all falls on innovation and the creation of a product. "I got back into the innovation front saying I have to build my innovation pipeline. I have to have my products. I can't just be a single skew out there, just one skew of sleep, right?" David says.  
This led him to building up a functional dream that went beyond just a single product. He realized that there were markets in beauty and muscle recovery that he could include into his business. He developed a formula that helped stimulate collagen, along with creating a formula of powder for nighttime muscle recovery. Using what he had, and what was working for his success, he created more products to help the business grow outward.  
"So, I had this whole pipeline, the business, you know, got to hit. It started to come down. It came back up; it came back up…[everything] was rocking and rolling and then the innovation pipeline set [it all] up." David says, as the outcome of his products and his business combined together to create accomplishments that bounced off of one another.   
Instead of giving up when he felt times getting tough, David created more. And this innovative thinking sparked more success than he dreamt of.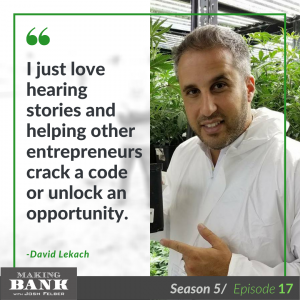 Entrepreneur Mentality 
David credits a lot of his good mentality throughout his business to his Entrepreneurs Organization group. "I want it to always do great and continue to help the millions of people that it's helped over the last decade of existence," David says of his product. "That's really important to me, but you know, you have to be mentally ready." Once you create a business and go forward with it, you're going to be meeting new people and having conversations you're not used to. The environment that you're placing yourself in is going to be majorly different if you're an entrepreneur and you're starting something new, whether you have experience in business or not.  
Building relationships with other entrepreneurs and hearing their stories, along with helping them out, is something that David enjoys in his line of business. Creating relationships with people that are like him is something he considers to be a hobby. As for his family, they function out of a family office type structure. In fact, David's younger brother was ahead of sales at Dream Water.  
"The bottom line is this shit ain't easy, period. End of story. And there takes a certain amount of resilience and fortitude and resourcefulness to go from point A to point B to all the way to Z and see it through," David says. When you're working for this goal it's hard to get caught up in the bigger picture and focus on results. Sometimes, you need to remind yourself that the moments that you are experiencing – the highs and the lows – are the good times, the experiences that you mature from and that build you to be the businessman or leader that you will be later on.  
You'll never quite know what a blessing in disguise is when it comes to business, and that is okay. Take what you know, trust your gut, and realize that everything is a learning opportunity.