The Top 5 Mistakes Entrepreneurs Make And How To Overcome Them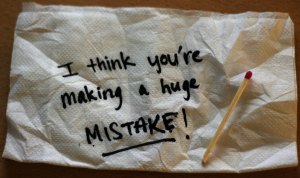 To create a business from the ground up isn't an easy task. Initially, you are bound to make mistakes as there is a lot of uncertainty about many actions. In fact, there will be many times in which first-time entrepreneurs are completely clueless about the decisions that they are supposed to make. The best thing about starting your own business is that even though no two businesses are the same, they face similar problems. This means that new-time entrepreneurs can learn from the common mistakes already made in the past by other entrepreneurs.
This blog discusses the top 5 mistakes that are commonly made by entrepreneurs and how those mistakes can be avoided.
1. No Clear Vision and Goals
This is one of the major mistakes that entrepreneurs commonly make. According to research, many new entrepreneurs simply start a venture without setting a clear vision or reviewing possible implications that they can face. If you haven't even decided what you want to achieve and haven't set any goals to move forward, you will not be able to survive in today's competitive world. If your long term plan is to globalize, make sure you see how CloudPay can help with payroll.
It is essential to know what you want to achieve through your business and how you will achieve it. A vision and a goal to achieve that mission are crucial for all businesses. An entrepreneur must have a clear vision to initiate a business and must make a proper plan before starting it. There are certain essential factors that must be considered to plan out your goals as per your vision. These factors include:
Long term and short term goals,

Target market,

Comprehensive organizational structure,

Executive summary that outlines all tasks and employees needed.
2. Not Taking Financial Planning Seriously
Failing to make a proper plan financially, is another common mistake made by entrepreneurs. This is a clear sign that your business will face difficulties lifting itself off the ground. In order to ensure that your business thrives, it is important that you have a proper budget allocated from the very beginning. If there isn't much capital to invest in the venture, it is best to look for different methods of attaining money, like loans or partners, or borrowing funds from family and friends.
When you have enough financial resources, you must plan them out carefully or they will lead to problems in the near future. Avoid making unnecessary purchases and stick to your budget. If you are not good with managing finances, then it is best to hire someone or ask help/advice from trusted friends, family or business associates.
3. Doing Everything Alone
This is a really common mistake that many entrepreneurs make. They think that they can handle all tasks and responsibilities alone, and avoid asking for help from anyone. You must understand that this is a very unwise move and can lead to many problems. Starting and managing a business is a major challenge which cannot be faced alone, even when one has all the possible resources.
The wise move is to stop wasting your time juggling all the tasks and trying to deal with them yourself, and start looking for help and support from different individuals, for example using Hostiserver to help with your web hosting. You can hire a few employees if needed, to manage your business in the most effective way possible.
In today's time, many companies offer outsourced services to businesses and you can make the most of these companies to get help in the areas where you lack expertise. For example, if it's your first time promoting or marketing products or if you aren't good at managing finances, you can hire a marketing agency or accounting firm to help you out in these areas.
4. Hiring the Wrong People
For a new entrepreneur, it is very easy to hire employees recklessly. Most entrepreneurs neglect the cost of hiring too early and too fast. Coming across a resume of someone from a well reputed university or with extensive experience; it is very tempting to hire them immediately. Just because someone has an amazing educational or professional background doesn't mean that person will be good for the job. Before hiring blindly, determine if that person will be able to do the job well and whether that person will fit into your company and honor the values that you want to follow. Perhaps purchasing pre-employment tests from sites such as https://www.berkeassessment.com/solutions will help you to work out how their clients will fit into an existing team.
If you hire the wrong people, it is only going to cost you more; damaging your business. You must carefully consider who you want to hire; outline the job description properly and assess whether the candidate is suitable for those responsibilities. Even with great credentials, a person can be unsuitable for a particular job. Think and choose wisely because this is a major decision which will have a strong impact on the future of your new company.
Another common mistake made by entrepreneurs, especially young entrepreneurs; is that they start hiring their friends and people they love hanging out with. There is nothing wrong in hiring a friend who has great skills and will be a great asset to your company but hiring a friend simply because you love their company and they are fun to be with; is completely the wrong way to go.
5. Not Admitting Faults
Making a mistake is not a very major issue but it does become a problem if you refuse to admit your mistakes and correct them. If you have made a wrong decision or have made any other mistake in your business processes, it is never too late to admit it and make appropriate amendments. According to research, majority of the entrepreneurs are not willing to admit their mistakes and faults. They strongly believe in their own strategies and ideologies and refuse to admit that there are any faults in them. This attitude will only take you so far.
If you refuse to listen to advice or suggestions that other people are giving you and stick to your ways even if you are not achieving anything, then you are ultimately going to fail. Usually many entrepreneurs have mentors whom they ask for advice or suggestions, some even get help from business consultants to guide them. Having a mentor or a business consultant is important, especially for first-time entrepreneurs, as these professionals can assist and guide you in an effective manner.
Self assessment is also extremely important in improving and enhancing your new business. You have to admit the mistakes and faults so that you can avoid them in the future. It is important to learn from the mistakes you have made to avoid unnecessary problems. Don't be afraid to listen to others. The suggestions, advice and criticism will only make you and your business grow.
Creating a business and watching it progress is a dream of every entrepreneur. However, without learning from past mistakes, this dream can easily become a nightmare. It is best to make decisions after careful considerations and to move forward gradually towards your success, rather than running forward while making numerous mistakes and ultimately facing failure.
Want me to send you a more detailed Free Report and Video Series on these top 5 Mistakes?
IF YOU ENJOYED THE ARTICLE | Click Here for more Free Content